25 maja 2023
Erasmus Day in Piła!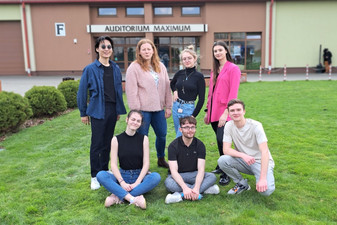 Students from our University and two employees from the Department of Science and International Cooperation took part in the ERASMUS Day organised on 20 April 2023 by Stanisław Staszic State University of Applied Sciences in Piła. The event was also attended by other ERASMUS+ students who came from member universities of the Association of State Higher Education Vocational Schools from the Wielkopolska Region.
The meeting was a truly multicultural and international event as it hosted students from various countries, including Sudan, Cambodia, Bosnia and Herzegovina, and Turkey, who provided accounts of their foreign study trips and gave presentations about their countries. Our University was represented by a third-year Mechatronics student, Darkhan Shalabayev from Kazakhstan, who took part in the ERASMUS+ Programme and told about his positive experiences from studying abroad, mobility opportunities the Programme offers, and his further study-related plans.
After a more official part of the event, all the participants had a chance to get to know closer through fun and dance activities, including sports games, which were organised at the Piła University' courtyard.