30 października 2020
ERASMUS+ ONLINE FOR STUDENTS IN ECONOMICS AND ADMINISTRATION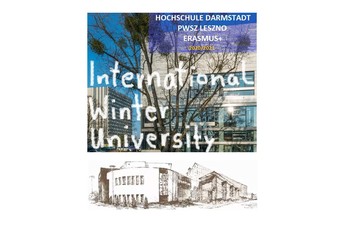 ERASMUS+ ONLINE FOR STUDENTS IN ECONOMICS AND ADMINISTRATION
Join the online program of the International Winter University, January 03-23, 2021
Program:
This academic year, our partner university in Darmstadt invites you to apply for the online program of the International Winter University. You can choose an academic module that fits to your academic background. In addition, you will attend a German language course and be part of an interesting online leisure program. The Institute of Economy and Management at PWSZ Leszno will give credit points for the modules/courses completed at the partner university!
1. Academic module conducted in English, 4 ECTS (each):
(A) Business Administration – International Marketing and Sales (further information in the attached file)
(B) Social Sciences – Digital Society (Societies) (further information in the attached file)
2. German language course, 3 ECTS:
German language courses will be offered at all levels in reference to the European Framework of Reference for Languages.
3. Virtual leisure program:
City and campus tours, educational documentaries, virtual treasure hunt, German buddies and much more.
Costs:
The program is completely free of charge (for students of partner universities)
Application deadline:
November 25, 2020
Online application:
https://wup.h-da.de/ , https://wup.h-da.de/how-to-apply/
If you have any questions don't hesitate to ask.
Contact: regina.zielnica@pwsz.edu.pl