23 listopada 2020
Cooperation with university in the capital of Georgia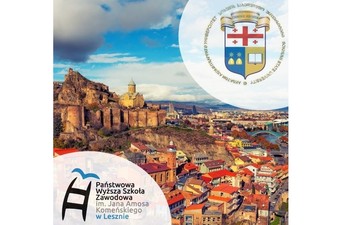 We are proud to inform you about a new university cooperation. The Jan Amos Komeński University of Applied Sciences in Leszno has signed an agreement with a university in Georgia for the first time. The cooperation agreement with Sokhumi State University in Tbilisi was concluded for a period of two years and will be implemented as part of the Erasmus+ Program (project KA107).
The Sokhumi State University was founded in 1932 after the decision of the Georgian government to set up a Pedagogical University in Sokhumi, located on the shores of the Black Sea. Unfortunately, as a result of the fighting over the Abkhazia region in the 1990s, the university was relocated to the capital Tbilisi. The cooperation with the Georgian university primarily concerns the fields of study pedagogy and philology and enables an exchange of students and lecturers based on the Erasmus+ program.
In addition, we would like to remind you that our university has funds to finance STA mobilities for our lecturers (obligation to teach 8 hours at the partner university) as part of the Erasmus+ program (project KA107). Our students and lecturers can be sent to the following partner universities:
- Armenia: Northern University of Yerevan (economics, philology, pedagogy),
- Georgia: Sokhumi State University in Tbilisi (philology, pedagogy),
- Ukraine: Tyczyna State University for Pedagogical Studies in Uman (Philology, Pedagogy, Physical Education
If you would like to study at one of the universities above, please contact the Department of Science and International Cooperation.